Girl's Team Information
Sterling Gym offers USA Gymnastics Development Program Levels 1-10 (formerly known as JO) and Xcel team programs for girls ages 4-18 years. The Development Program starts with advanced training classes that teach the fundamental shapes, conditioning, and base skills required for the competitive team tracks. Levels 1-5 are the introductory levels of the compulsory team program, where fundamental skills and routines are put together. Optional level competition starts at Level 6 and continues through Level 10. These levels introduce advanced gymnastics skills and unique routines for each gymnast based on a series of skill requirements set forth by USA Gymnastics.
Sterling also offers a great Xcel team program for girls who are looking for an alternative to the strict requirements of the Development Program competition track. This is a great program for those who pursue multiple sports! The Xcel program levels are called Bronze, Silver, Gold, Platinum and Diamond. Our Xcel program director is Bailey Gildemeyer.
The competitive teams at Sterling Academy of Gymnastics are built upon an invitation-only system by our team coaches. The individual levels are structured according to the USA Gymnastics national guidelines. The girls' team program director is Michelle Carbone. Girls' team coaches include Matt Carbone, Michelle Carbone, Allie Watkins, Sofia Santiago, Bailey Gildemeyer and Maddie Cuozzi. All team coaches are safety certified professional members of USA Gymnastics, trained in First Aid, CPR and AED, and stay up to date on technique developments and skill requirements through annual training.
It is the goal of Sterling Academy of Gymnastics to provide a SAFE, STRUCTURED, and POSITIVE learning environment, and to provide our technical knowledge to each team member, so that each gymnast can reach his or her potential.
In order to accomplish this goal, we feel it is necessary to promote a program that instills principles based on hard work, self-motivation, self discipline, and respect for each other. Hopefully, these qualities will carry over into life outside of gymnastics.
We encourage all gymnasts and parents to attend the competitions and encourage the Sterling Teams as they compete against other teams from across the State and the Country. The meet schedule is available here.
More information is available at the front counter, or by calling the gym at (978) 422-7655. Please ask to speak with Michelle Carbone regarding any questions about the Girls' Team programs.
START HERE! GO ANYWHERE!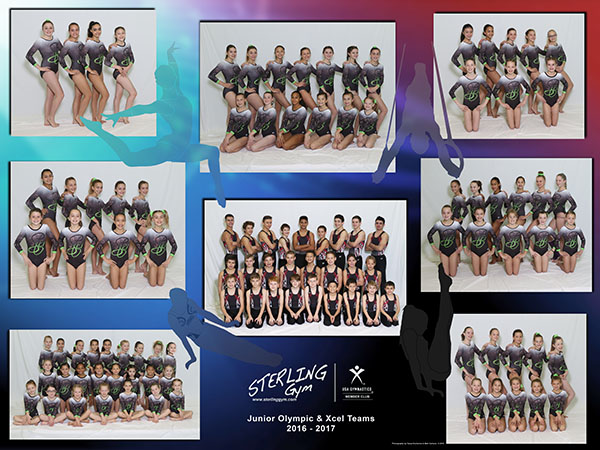 ---