Sterling Gym - A 24,000 sq ft State-of-the-Art training facility

Summer 2019 Notice: Please bear with us as we expand our facility.
Construction is underway and scheduled to be completed by Fall 2019.
Please follow our facebook page for updates on progress and new programs that will be offered.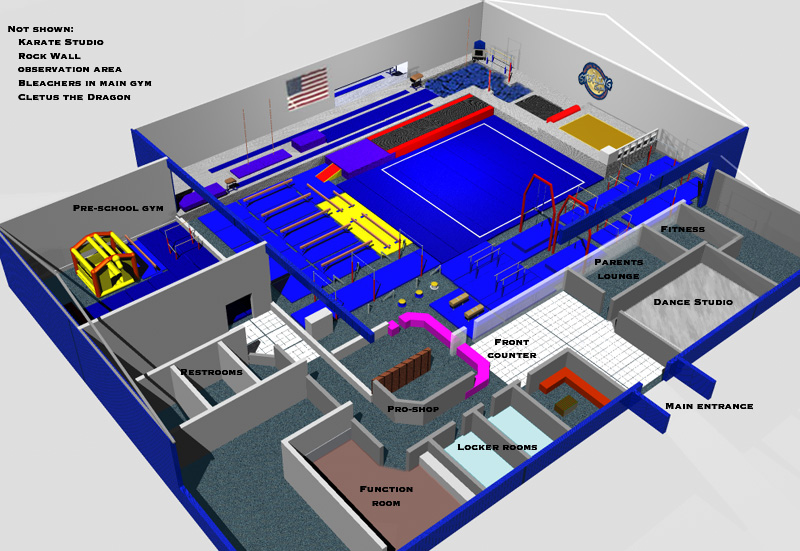 Located in Sterling, Massachusetts, the Sterling Academy of Gymnastics is a State of the Art
training facility specializing in Gymnastics, Dance, Martial Arts, Circus Arts, Ninja Challenge, and Rock Climbing. Since 1992, we have been continually reinvesting in our facility, staff training, programs, and equipment to offer the best possible instruction for your children.

Directions to Sterling Gym


The main gym is a 12,000 sq ft plan with all Men's and Women's Olympic events, as well as training systems for each event. Deep foam cube pits, overhead belt systems, tumble-tracks, and bungee systems are standard equipment for creating a safe and fun environment for kids to train in.
Our Junior Olympic competition equipment includes all FIG equipment from AAI, SA, and Janssen Fritsen. Women's equipment includes AAI Elite Uneven Bars (2 sets), Janssen-Fritsen Vault Table, AAI Reflex Beam, and AAI Spring Floor. Men's equipment includes AAI Pommel Horse, AAI Ring Tower, AAI High Bar, AAI Parallel Bars, AAI Spring Floor, and Janssen-Fritsen Vault Table. Sterling Gym maintains the industry's latest in training systems as well, including foam cube pits, tumble-traks, trampolines, spotting belts over nearly every event, bungee systems, strap bars, climbing ropes, stall bar workstations and much more.
Gym 2 is a 2,500 sq ft Pre-School gym with "mini" equipment scaled down for younger children. This gym offers deep foam cube pits, tumble-track, foam floor, climbing nets, and occasionaly gets a visit from a large yellow giraffe named Belle E. Bounce. Our Mom and Tot classes are held in this gym to emphasize basic motor skills, hand-eye coordination, and good plain fun in a structured environment.
Our 3 dance studios are equipped with Marley floors, mirrored walls and ballet bars to accommodate nearly all forms of dance instruction.
The Martial Arts studio provides a safe, fully-equipped space for beginner to advanced martial arts training.

We also offer a kids play room, adult fitness area, and a quiet viewing room with Satellite TV for parents only!
Free WiFi is available throughout our lobby - please ask at the front counter for the password. Drink machines are located just outside our front doors, and a snack machine is in the main lobby. Our concession stand is open during meets and special events throughout the year.

Our Summer programs also have access to our on-site pool, 100' water slide, 300' zip line, beach volleyball, and turf fields for more outdoor fun!
---